Avanafil (Generic Stendra)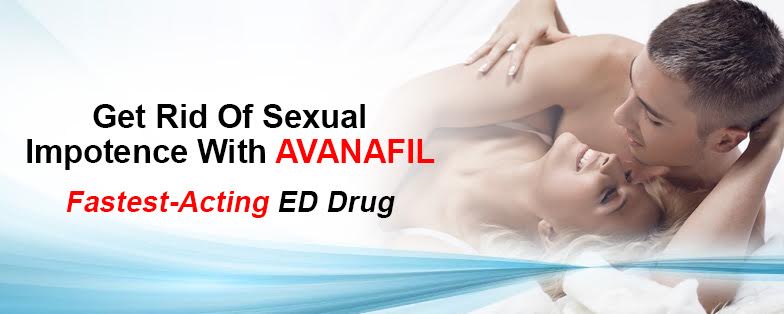 Buy Avanafil (Generic Stendra) for Erectile Dysfunction
Avanafil is one of the latest therapeutic agents advised for the treatment of erectile dysfunction (ED), a common sexual issue. It is extremely useful in treating male sexual weakness, as it helps men to achieve and sustain harder erection during sexual arousal so that they can complete the act of sexual intercourse with utmost satisfaction. Clinical studies have found that Avanafil acts faster than other anti-impotent drugs.
Avanafil, under the brand name Stendra, is prescribed for managing chronic erectile dysfunction in men. However, it is available in various generic versions that are as effective as brand medicine. The generic versions of Avanafil are available at relatively cheaper price. It is important to use this medicine under the supervision of your doctor, as Avanafil is a prescription drug.
Avanafil (Generic Stendra) 50mg & 100mg Tablets
Pharmacological Action
The pharmacological action of Avanafil is a bit intricate. It belongs to a group of drugs called PDE5 (phosphodiesterase-5) inhibitors. As the name suggests, Avanafil inhibits the secretion of an enzyme called PDE5. When PDE5 is inhibited, the level of nitric oxide increases. Eventually, the overall blood flow elevates. The penile organ receives adequate amount of blood to experience an erection that sustains for longer duration. Remember, Avanafil promotes erection only in the presence of sexual stimulation. Hence, it is imperative to indulge in sexual foreplay 15 to 30 minutes after dosage to reap the benefits.
How should you use Avanafil?
It is important that you use Avanafil as prescribed by your healthcare professional and follow all directions carefully

Take the prescribed dose as advised and do not take more or less amount of dose for longer period

The standard dose of this medicine is 100 mg, but some men may need 25 or 50 mg, depending on the need and response

Usually, you need to take the dose at least 15 to 30 minutes before intending to indulge in sexual activity

You should use this medicine only once in 24 hours, when needed, preferably on an empty stomach

Avanafil will not promote spontaneous erection; you need to be sexually aroused to experience harder and durable erection

Mild to moderate dizziness is often experienced after dose, so stay away from performing activities that need attention

Do not exceed the dose by more than advised, as overdose is associated with unpleasant side effects

Keep Avanafil pills away from direct sunlight, heat or moisture; and more importantly, keep it away from children

The drug may lose its efficacy if you take it with alcohol or grapefruits, so avoid them
Vital Information
Synthetic medicine such as Avanafil or Generic Stendra should be used after having a word with your medical professional about the risks and benefits of using it. It is imperative that you inform tell your physician about following things, if any:
Medical issues such as heart disease, brain disorders, liver or kidney dysfunction, anemia, leukemia, stomach ulcers or any other debilitating diseases

Taking prescription or over-the-counter medicines, herbal products or supplements

Hypersensitivity to any medications, including Avanafil
Side Effects
Nausea, blurry vision, headache, dizziness, runny nose and stomach upset are common side effects that are mild and subside. However, if you experience any unpleasant side effects such as breathlessness, chest pain, prolonged erection, hives or swelling of face, immediately see your doctor.
Who should not use Avanafil?
Do not give this generic ED medicine to women, children and anyone who is less than 18 years. It should not be used recreationally. Men who are chronic alcoholics should not use this ED drug. It is also contraindicated to men who are already under treatment with nitrates, who are allergic to Avanafil, and who are suffering from end-stage heart or brain disorders.
Which drugs interact with Avanafil?
Nitroglycerine or nitrates

Beta-blockers or Alpha-blockers

Antidepressants

Antifungal, antibacterial or antiviral

Prostate enlargement medicines
The aforementioned therapeutic drugs are known to interact with Avanafil, and produce unpleasant side effects if taken together. Hence, it is essential that you check with your doctor and inform about the treatment you are receiving.
Avanafil is really an amazing medicine to get rid of erectile dysfunction, provided used as prescribed by the doctor. Do not overdose or self-medicate with this prescription erectile dysfunction medicine.