Asthalin 4mg Tablets (Salbutamol 4mg)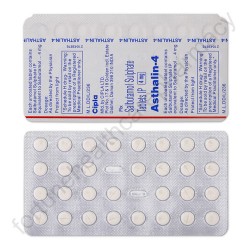 Brand:
Cipla
Availability:
In Stock
Qty:
Add to Cart

Asthalin 4mg is an exceptional generic medicine prescribed for the treatment and preventing of bronchial asthma and other reversible obstructive respiratory diseases (bronchitis and emphysema). It is also advised to people who have history of bronchoconstriction caused by exercise. Asthalin 4mg tablets are effective against shortness of breath, cough, wheezing and chest congestion. This asthma medicine will not control an already occurred bronchospasm; for that, you need a rescue inhaler.
Salbutamol, or Albuterol, is the chief chemical of Asthalin 4mg pills. A prominent drug manufacture, Cipla, produces and develops this generic asthma drug. Albuterol is an antagonist of beta-2-adrenergic receptors, which further helps relax the muscles present in the airways. Eventually, it dilates the constricted bronchioles so that the air passes flawlessly through respiratory tract. An asthmatic patient should use this medicine regularly to experience improvement.
The standard dose of Asthalin 4mg is one tablet at least three or four times a day. Talk to a pediatrician to know about the exact dosage in children above 4 years. Never give this medicine to anyone who is less than 4 years. Store Asthalin 4mg pills in a cool, dry place, preferably at room temperature. Keep this asthma medicine in a safe place where children can't access.
Side effects with Asthalin 4mg are quite rare. Some of the common ones include headache, tremors, sleeplessness, confusion and nervousness. Get immediate medical attention if you experience serious side effects such as chest pain, palpitations, flushing and giddiness. Hence, it is always recommended to use Asthalin 4mg under the observation of your doctor.
Write a review
Your Name:
Your Review:
Note:

HTML is not translated!
Rating:
Bad
Good
Enter the code in the box below: